Discover more from Longevity Minded
Strategy infused stories to help you live longer, healthier, and more purposefully.
Over 1,000 subscribers
Happy Thursday!
Today is a special day. We have lots to celebrate…
This newsletter marks the 100th Thursday edition of Longevity Minded. Today, I'm celebrating you — my awesome readers. You are the reason I write, so thank you for showing up every week.

To make the next hundred editions more personal, insightful, and impactful, I'm taking Write of Passage to level up my writing skills. The story below is the first of five essays I'll complete over the next five weeks.
Please enjoy!
---
At the time, I was four months out of university and dutifully employed by the Government of Canada as a Business Analyst. 
Through the lens of an outsider, I was set for life.
Job security, benefits, pension, great pay, lax working hours, ample vacation time… what more could you ask for? Family friends and acquaintances were quick to tell me, "That's a job you hold onto!" I would return a weak smile and mumble something in agreement, my insides screaming to escape before I swallowed the keys to my own golden handcuffs.
The story of where I am today, an unemployed business graduate turned aspiring full-time writer in Buenos Aires, begins in January 2022 with a pen and a legal sized sheet of paper.
I squared the paper lengthwise as I keenly, more intently than I had done anything at my job in the past four months, split the page in half with a timeline. January 2022 on the left, December 2022 on the right, the other months in between.
I was mapping out my year. 
I'm not sure where this idea first came to me. The origins of my best ideas tend to be murky at best. But the instructions I gave myself still ring clearly in my head:
Map out your ideal year with no limitations or consideration for reality.
*
Flash forward to October 2022.
I'm sitting in the back of a dive boat as it roars away from a rural fishing village in Colombia. Like a Navy SEAL, I rolled into the pitch black water becoming indistinguishable from the darkened sea and sky around me. As air hissed out of my buoyancy jacket and I descended below the midnight Caribbean Sea, it hit me.
I was living out the timeline I had messily drawn nine months earlier. 
Since mapping my ideal year that cold January morning, I had already spent forty days on the road, traversing through Southern France with my Dad, partying with buddies in Prague, and hiking with my best friend in Vancouver.
Having been fully prepared to quit my unfulfilling bureaucratic job, I convinced my manager to let me take two months' leave so I could travel through South America and return to the certainty of my cushy salary by early December.
In the slow days after Christmas but before New Year's, I was gathering papers to complete my annual year-end reflection.
As I sorted and sifted, a smile spread across my lips as my calloused fingers unfolded a heavily creased legal sized sheet of paper. 
Skeptical as I was, I couldn't deny the results. 
The simple practice of defining my ideal year on a paper timeline helped me yank my wildest dreams into reality, giving them color and life and fueling memories and experiences I'll cherish for a lifetime.
It wasn't long before I was rummaging through my mother's wooden desk, looking for a crisp sheet of paper to repeat the timeline practice for 2023.
But as I lifted my pen from splitting the page down the middle, just as I had done twelve months earlier, despair seeped into my mind and dripped down my spine. 
Feeling like I was caught in a dream, unsure if last year actually happened, I had a sense of obligation. Of returning to the real world. It's time to come back to reality. I have a job, a life path already carved for me filled with the comfort of certainty, and I just got promoted along with a $15K raise!
Fighting off the childish feeling that I wasn't being realistic, I convinced myself to finish the timeline.
*
Fast forward to today, early October 2023.
It's been an even crazier year.
I've made bigger and bolder decisions, all inspired by my timeline practice.
In the first nine months of 2023, I grew my newsletter 257%, quit my job to write full-time and travel, and made my first dollars online.
I spent twenty days uncovering archeological wonders and fighting off overly persistent street vendors in Egypt with my Dad — a trip that's already quadrupled its worth through the memories we created and stories we share with others. I worshiped Istanbul's beautiful mosques and spent three weeks in Italy with my girlfriend on her first trip to Europe. I hiked 100 kilometers in three days through the rugged Canadian Rockies with my brother and close friend. I survived ten days in the "dangerous" sandy streets of Rio de Janeiro, and am now bathing in the beauty of French architecture of Buenos Aires.
*
But I want to be clear: I didn't make these decisions with the calm confidence and bold bravado of James Bond.
I made them out of fear.
Fear of complacency. Fear of the person I would become and the life I would create if I took the easy path. Fear of becoming filled with regret and resentful of my younger self. Fear of accepting a job I don't love thinking "There's no other option, what else am I gonna do?"
My timeline practice helped me recognize my deepest fears and steer clear of them while courageously pulling into my life the places, people, and things that give me the feeling of being alive.
Fear isn't always a bad thing.
If you channel it, use it as energy, fear is empowering.
Fear was my body's way of sending me guiding signals to aid my decision making. Fear is the rocket fuel that brought my timeline to life.
Like a compass, fear magnetically pulled me towards my True North, away from all the paths of despair and regret and towards a place where fear is silenced by the burgeoning light of opportunity and excitement.
I still dwell in a cave of uncertainty.
Will I gain long-term control over my schedule and location independence?
Will I find or create a career where the work is meaningful and I wake up excited?
Or will I have to return to a real job where I'm told when and where to show up and burdened with meaningless work?
Some days, these questions consume me.
But I'd rather sit with the prospect of failure and the weight of uncertainty than build myself into a cage of unhappiness.
---
Instructions: The Timeline Exercise
Grab a legal sized sheet of paper and your favorite pen.

Position the paper in landscape orientation and draw a timeline down the middle.

Label it with months or quarters — whatever makes sense to you.

Think about your year in seasons. Sketch out what you want your life to look like in each of those seasons (months or quarters).

What are your main priorities for each period?

What kind of person do you wish to become?

Where are you going to be geographically? 

What experiences do you want to have?

What people will you be with?

Update through the year as your priorities change and plans come to fruition.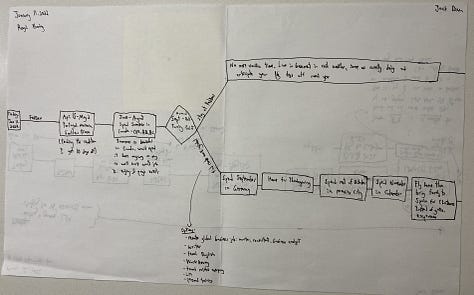 I'm curious to know how you reflect on your timeline over the past year? 
Do you think this practice could help bring your timeline for next year closer to what you want to be doing in your life?