Discover more from Longevity Minded
Strategy infused stories to help you live longer, healthier, and more purposefully.
Over 1,000 subscribers
The Physical Art of Not Being Lonely
Curing loneliness and building community through exercise.
After the final bell rang in my high school, I would speed walk to my locker to collect my shoes, athletic clothing, and three protein shakers — one for water, one for protein, one for amino acids — then trudge across the field and through a plaza, arriving at the gym. 
Blasting loud music through my earbuds to keep me company and sustain my energy, I warmed up and worked out alone.
I intentionally kept my gaze down to avoid the possibility of sparking a conversation with another gym goer. If someone tried to talk to me, I pretended I couldn't hear them over my tunes.
My focus had to be complete. The gym was no time for smiling or conversation.
Part of my identity was being mentally strong enough so that I didn't need anyone else. I wanted to be self-reliant and independent.  
But in doing so, I had emotionally and socially isolated myself.
Last summer my brother,
, and I exercised together every day while living at our cottage.
I quickly realized that although my solo exercise practice built discipline and strengthened my body, I was missing out on the emotional health benefits of group fitness.
My exercise lacked community and camaraderie. 
Every morning, we rose at 6 am.
One of us would start the kettle for coffee and, on chilly mornings, the other would light a fire in our wood-burning stove. After reading for 45 minutes, we would start our first workout of the day.
We ran together five times per week, lifted weights three times per week, and stretched or did knees over toes prehab when we weren't busy writing, walking, or canoeing around the lake.
I stopped needing music to get through workouts and instead drew energy from the unspoken bond we were building through our shared pursuit toward a common goal.
We were pushing each other harder than we would have alone and becoming fitter and faster. Words were no longer needed to communicate how we would flow through each workout or which running route we would take.
We tapped into the unique human ability to thrive in groups which fueled us with a sense of unity and togetherness that was ungraspable when I worked out alone.
It became obvious through this experience that my spirit ached as a result of purely solo exercise.
An empty space in my heart was filled by sharing the suffering with my brother.
We're living through a loneliness epidemic.
Despite the emergence of technology intended to connect us, studies show we're lonelier than ever.
I see exercise as a way to foster the spirit of togetherness.
When done alone, exercise builds discipline and strengthens your mind, body, and spirit.
When done together, it also creates unity, builds community, and nourishes your soul.
Here are a few ways to boost your emotional health through exercise:
Organize fitness challenges: Create month-long fitness challenges with your friends, family, or coworkers. During the pandemic, my friend and I did mini-challenges by sending videos of ourselves doing max push-ups and other exercises. Search the Internet for "month-long fitness challenge." 

Charity or community fitness events: Participate in or organize community fitness events like charity walks, runs, or yoga sessions. 

Join group fitness classes: By observation, it seems to be predominantly women who partake in group fitness classes. Don't be shy men. If it interests you, get in there.

Online fitness communities: Join online fitness communities (like this one!) where members support and motivate each other. Use our community Chat to share your experiences, progress, and challenges.

Play a team sport: This is an opportunity to rediscover your favorite childhood sport or to try something you've never done before. My girlfriend's dad plays in a recreational basketball league with his buddies once a week and my stepdad started playing pickleball this year.

Family fitness time: Incorporate fitness activities like walks, sports, or yoga into your family routines. 

Run a Spartan Race or Tough Mudder: I try to run one every year with my best pal. It's a blast. Pro tip: If you volunteer, it's free to run the race.
If you're in Toronto, hit me up! I'd love to get together for a run, hike, or workout.
---
Thank you for reading.
I hope you found something here that you're excited to experiment with!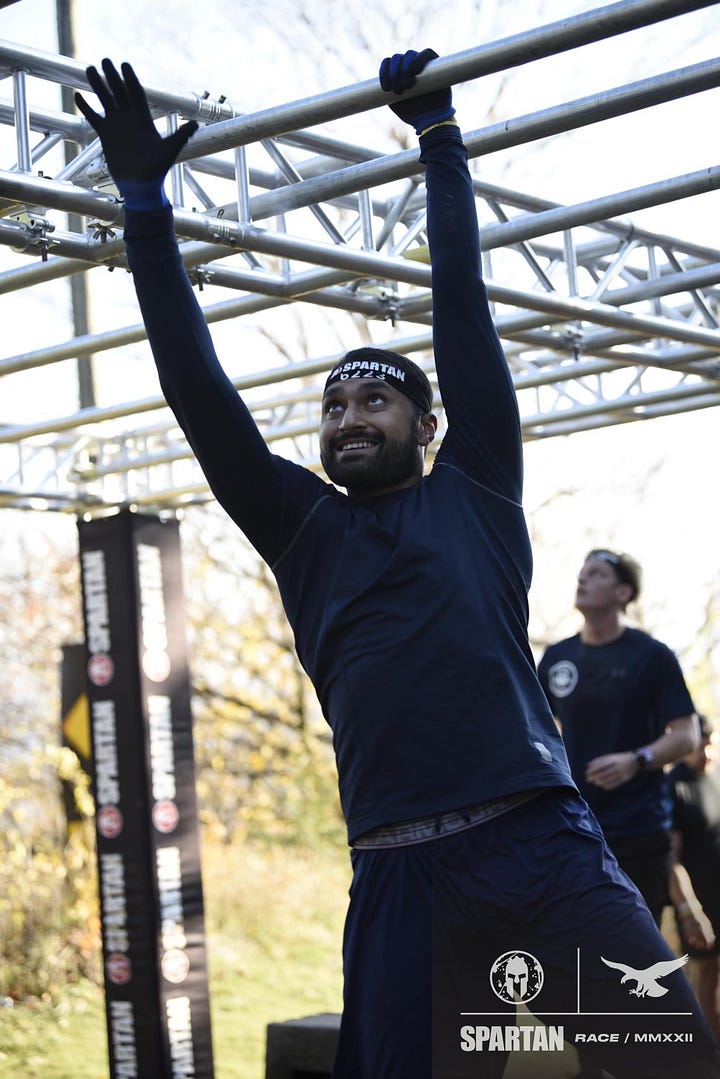 Much love,
Jack